Zcode Automated Systems Past Performance
The following table is showing the past performance of all automated systems combined.
Of course the past performance does not guarantee the future success but gives you a possible idea what you could make if you followed the systems and winning picks.
The results are 3rd party verified and transparent. Below you will find the list of the systems we used and can backtest each system to see it's past performance as well.
The profit amount is calculated based on the running profit.
Unlock your picks for all automated systems. Instant Access. Upgrade now:
Road To Million - Top 100 Systems past performance
Jan
Feb
Mar
Apr
May
Jun
Jul
Aug
Sep
Oct
Nov
Dec
Unlock your picks for all automated systems. Instant Access. Upgrade now:
Top 100 systems profit chart:
$13589453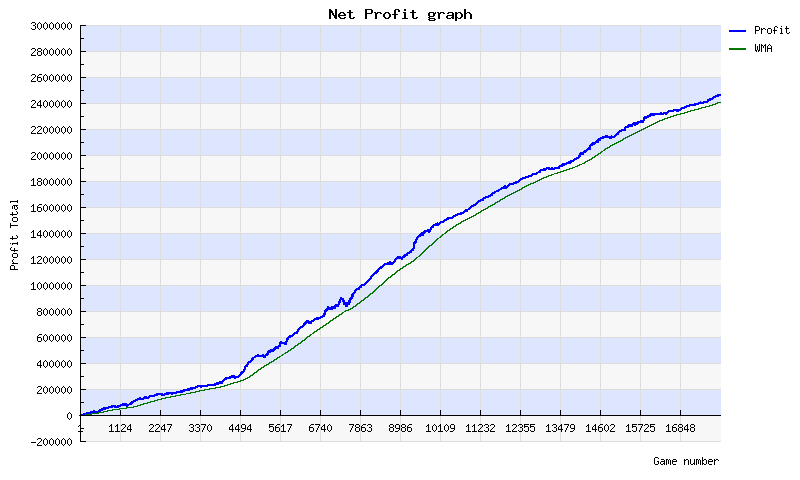 Top Performing Automated Systems
The following Top Automated Systems Rating is based on the Systems Power Ranking Formula. The advanced formula is calculating the position based on the recent 3 month performance. It will help the followers quickly decide which system is HOT right now and what to follow. If you click on the system in the list you can easily access its page and backtests. The rating is fully automated and has no human bias! Want to create your own system? Visit Zlab
https://zcodesystem.com/vipclub/zlab.php
Unlock your picks for all automated systems. Instant Access. Upgrade now:
Position #
System
ROI, %
Avg Dev, %
Trust, %
Profit