Professional Sports Investing Tools
What is Favorite Underdog Market Oscillator and How To Use It?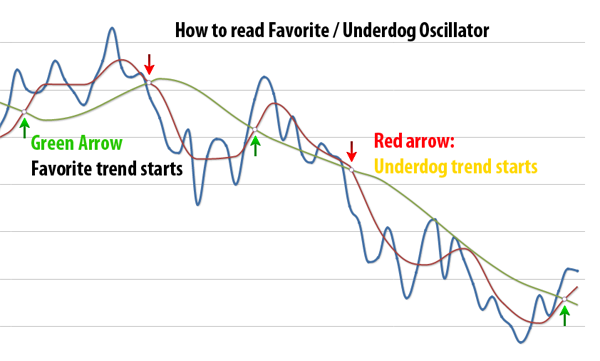 We believe in cycle nature in sports. There are periods with strong underdog market when underdogs tend to win more games than usual and periods of favorite market when favorites win much more games than usual. Understanding which type of market you are currently sports-trading, helps you improve your chances of success. For example betting favorites in the strong underdog market is a road to failure no matter how good your system is, they simply don't win enough games.
The chart shows you the summary of the winning and losing odds for the specific days. We simply take all favorites for the day and sum their wins and losses, same for underdogs. For spreads like NBA and NFL you can also check the handicap (spread) charts to see if they are covering spreads or not.
Additionally MA filter for Trend Oscillator will help you identify the trends and see the signals of possible trend reversals (arrows).
SMA 4 and 12 are the periods of Moving Average line. (short 4 and long 12). Look for points where they cross. That usually indicates a trend change! This idea is very popular in technical analysis in currency trading and it works really well in sports trading as well!
The data for your time period is not available. Please select other period.
Z Code System
Fully Verifiable Winning System Proven Since 1999
Industry Standard In Sports Investing
Get winning picks on MLB, NHL, NBA and NFL
Enter your email where to send the picks: